Washing Machine

Repair Al Barsha
Quick Service at
Your Door Step
Washing Machine Repair Al Barsha. We at A to Z Appliances Repair, Fix all kinds of washing machines at affordable cost either you live in al barsha or anywhere in Dubai, we provide you the best service at your door step. We are expert in repairing a wide range of washing machines including:
Fully Automatic Washing Machines
Semi-Automatic Washing Machines
Top Loading Washing Machines
Front Loading Washing Machines
Compact Washing Machines
Combination Units
Washing Machine Repair And Service In Al Barsha And All Areas In Dubai
Affordable – Reliable – Trusted Washing Machine Repair Company In Dubai
Call Us Now For A Quick Response And Technical Advice +971 55 199 6007
Washing Machine Repair Services In Al Barsha.
Professional and experienced washing machine repair and service technicians in Dubai. If you are searching for the following;
Washing Machine Repair 

Washing Machine Repair in Al Barsha

Washing Machine Repair Al Barsha

Washing Machine Repair and Service

Washing Machine Repair near me

Washing Machine Technician in Al Barsha
then you are in the right place. At A To Z Appliances Repair, we take care of all of your washing machine repair needs. We also provide quick and quality washing machine repair service in all areas in Dubai.
Your washing machine is the need for your daily life as it reduces the hard work and time in washing the whole family's clothes. So it must deserve good care. A to Z Appliances Repair is the best choice to take care of your electric companion. Let's know if there is any problem with your washing machine we'll fix it immediately. Contact us at Shop Phone:055 976 3366 or Mobile Number: 055 199 6007.
Your Washing Machine May Need To Fix One Of The Following Issues:
Washing Machine Makes Noise:
                      There can be many reasons when a washing machine makes a loud noise but most probably there could be a part broken or worn out or the noise may come from the rattle of a pump motor, to the squealing of a belt or worn tub bearings.
Washer Doesn't Turn on:
                     If the washer doesn't turn then it may be a simple issue with the plug or electric supply but if these things look OK then you must take action and call a professional technician. A to Z appliances repair is a company of expert washing machine technicians, we are always ready to help our clients.
Washing Machine Doesn't Drain Properly:
                     Sometimes it happens when the drain hose is clogged and it can be fixed easily but there are some other possible reasons too. If you do not get the exact problem then it is better to call an expert to save your self from any kind of bigger loss.
Washing Machine Doesn't spin:
                     If your washing machine doesn't spin even the current supply is on then there may be a serious problem. First of all, you must turn your washing machine off to save your self from any kind of hazard like a short circuit or burning of wires, etc. Then call for an expert washing machine repair service.
Washing Machine Gives Burning Smell:
                     If your washing machine gives burning smell then it is definitely a serious issue. You must not try to touch it or turn it on again. Just call a service advisor for immediate protective actions and for the maintenance and repairing of your washing machine. 
Washing Machine Leakage:
                     Leakage in the washing machine may cause other major problems in your washing machine like short circuit or burning of other electric parts. A to Z appliances repair can inspect and fix your washing machine in a timely manner.
Expert Level Repair Services for All Washing Machine Brands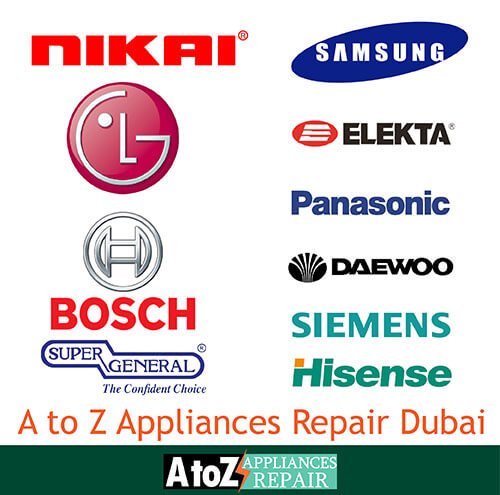 Same Day Services – Quality Work Guaranteed
                      A to Z appliances repair provides same-day services for all brands. If you need any services regarding Samsung Washing Machine Repair, LG Washing Machine Repair, Bosch Washing Machine Repair, Panasonic Washing Machine Repair, Nikai Washing Machine Repair, Daewoo Washing Machine Repair, Nobel Washing Machine Repair, Super General Washing Machine Repair, Elekta Washing Machine Repair, Hisense Washing Machine Repair, Siemens Washing Machine Repair, Kenwood Washing Machine Repair then feel free to Contact Us Now or Book an Appointment.
Why Choose Us
Experts Technicians
Delivery On Time
24/7 Services
Service Warranty 
Affordable Prices
Fast & Convenient